---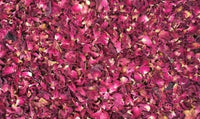 Dehydrated Organic Rose Petals 

Each 4 x 8 Bag contains Appx 30 grams (Large = 2 cups dried)
Each 4 x 6 Bag contains appx 15 grams (Small=1 cups dried)  
Colors are deep reds, magentas and fuchsias. Great for crafts, smell great for baths etc.

Available as long as fresh ( Item will go out of stock seasonally as these are made in small batches) 
**If you would like a custom size/ larger bag please send the request to Hellkittenrva@gmail.com If we are able we would be happy to accommodate!
We cant wait to see what you do with these!